---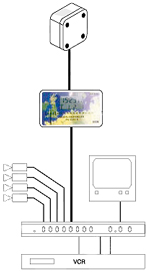 ---

For more information about Galleon Systems and products click here.
---
Synchronise CCTV Systems using atomic clocks.
click here for product list

The time signal transmitted by the National Physics Laboratory is the most precise time available, accurate to 1 second in 1,000,000 years. The Galleon range of Atomic Clocks uses the signal to synchronise the time recorded on video surveillance equipment. Galleon Atomic Clocks can synchronise the time on video sequencers, Digital Multiplexers, CCTV system or directly onto the video signal before recording. The signal can be received up to 1500 kilometres from either Rugby in the UK or Frankfurt in Germany.
Simple Connections.
Simple connections. Galleon Atomic Clocks are easy to install and use. They interface with either-
Video Sequencer/Multiplexer serial port and have driver software to set the time on most video sequencers and multiplexers.
Stamp the time directly into the signal before the VCR, this uses a coax in line time stamp
All kind of organisations all over the world are already using Galleon Remote Atomic Radio Clocks.
Key benefits include:
Ensures that the correct time is always recorded on tape.
Automatically adjusts between Summer/Winter Time. No need to remember to change your clocks manually.
Helps combat fraud by providing accurate audit-able time-stamping
Log exactly when events occur.
Set the correct audit-able time on CCTV recorder.
Full product range, for all your Time Synchronisation requirements from Galleon The Time Specialists.
Automatic update of time. No user intervention required, once installed forget about it.
Simple Installation
Reliable, GALLEON Atomic Clocks are used by thousands of organisations world-wide. They are used in a wide range of applications, including currency trading and e-commerce.
---
Stamp the correct synchronised time onto a single VCR or monitor.

Description

Product Code

Video TimeStamper master. The TimeStamper for CCTV provides an on-screen time and date display for CCTV systems and is connected in-line just before the monitor or VCR. Works with coax systems. Includes Atomic radio time receiver, VCR coax interface (input and output), and a display for time, signal strength and date.

TSM/M


Remote Antenna for TimeStamper Master. The remote antenna adds the ability to mount a receiving antenna up to 500 feet 150 meters away from a TimeStamp master to improve the signal reception in areas were there is a weak radio signal. The remote antenna m can be mounted in a roof space or on a external wall. Unit is sealed to IP65.

TAD/RTA/M

Video TimeStamper slave. The TimeStamper slave receives the time from a TimeStamper master thus saving the cost of a second Atomic radio Clock receiver. TimeStamper slave provides an on-screen time and date display for CCTV systems and is connected in-line just before the monitor or VCR and works with coax systems.

---

TSS/M


Synchronise time on CCTV Multiplexers
Tecton (Drax)TimeController Synchronises the time on Tecton, Montage or Vicon multiplexers. The TimeController provides a serial output to synchronise the CCTV multiplexer once every hour, Includes Atomic radio time receiver mains powered, serial interface, time, signal strength and date display.

MontageTimeController Synchronises the time on Tecton, Montage or Vicon multiplexers. The TimeController provides a serial output to synchronise the CCTV multiplexer once every hour, Includes Atomic radio time receiver mains powered, serial interface, time, signal strength and date display.

MUX/DTM/M


ViconTimeController Synchronises the time on Tecton, Montage or Vicon multiplexers. The TimeController provides a serial output to synchronise the CCTV multiplexer once every hour, Includes Atomic radio time receiver mains powered, serial interface, time, signal strength and date display.

MUX/DTM/M


BaxallTimeController Synchronises the time on Baxall multiplexers. The TimeController provides a serial output to synchronise the CCTV multiplexer once every hour, Includes Atomic radio time receiver mains powered, serial interface, time, signal strength and date display.

MUX/DTM/M


Remote Antenna for Time Controller. The remote antenna adds the ability to mount a receiving antenna up to 500 feet 150 meters away from a TimeStamp master to improve the signal reception in areas were there is a weak radio signal. The remote antenna m can be mounted in a roof space or on a external wall. Unit is sealed to IP65.

TAD/RTA/M

---
Click here to go to the Galleon official UK website Galsys
Click here to go to the Galleon official US website NTP Time Server
---
Links


Time Server - Rackmount time server products
NTP Server - Stand alone NTP Time Servers
Time Servers - Information Page
NTP Time Server - All NTP Server Products
Atomic clock - All Atomic clock Products

NTP server products
Windows NTP Time Server Products
Time server Solutions
Galleon Time Synchronisation Solutions

Contacts:

Atomic clock Galleon
Galleon's Time Synchronisation
Galleon Contact information

Information:

Galleon's NTP Time Servers
Dedicated rackmount NTP time servers
AboutNTP
About NTP for Windows NT/2000/XP
NTP for Windows 2000/NT/XP

atomic clock
gps time server
ntp unix
ntp windows 2003
ntp windows nt
time synchronisation
unix time server

For more information about Galleon Systems and products click here..

Telephone Galleon: 0121 608 7230 | International:+44 870 608 3615
Home | Correct time for computers | CCTV | OEM Modules | Time and Attendance | Product Finder | FAQ's | Contact | Galsys.co.uk
© Galleon 2003