---


Digital wall clock
---

For more information about Galleon Systems and products click here.
---
Digital wall clocks are synchronised to Atomic Clock time, and come in 12 or 24 Hour Format,they also have Aluminum Frames and a Anti-glare lens

With all clocks being able to display the same, accurate, legal time. Galleon's digital clocks are specifically designed for scenario's where precision and reliability are of utmost importance. These clocks can be used as accurate stand-alone time displays. Or they can also be synchronized, using hard wire atomic clocks, so that all of the clocks, display the same time. Additionally, a standalone atomic time standard repeater may be used to transmit the true legal time to all other corresponding(slave) clocks. This means that all clocks will not only display the same time, but the time displayed is the true legal UK time. These clocks are ideal for when accurate, synchronized time is required.
Prices from about £249 for a 4" character height digital clocks.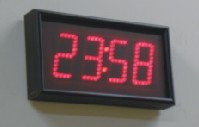 Digital wall clock

Analogue Wall clocks


The ethernet digital wall clock provides an accurate time display synchronised to a traceable time source using NTP or SNTP over ethernet. The units are available with either 4 or 6 digits displaying hours and minutes or hours, minutes and seconds, accurate to 0.2 sec.
Features
4 or 6 digit display, HH:MM or HH:MM:SS.
4 inch numerals, visible from 50m.
Set automatically by NTP/SNTP over ethernet.
10/100 BaseT ethernet.
12/24 hour display format.
Configurable Timezone offset and daylight saving time.
Simple installation reducing installation costs.
Benefits
Accurate time information throughout organisation.
World-wide operation.
Ideal for trading rooms, time & attendance and access control.

Ethernet digital wall clock
---
Click here to go to the Galleon official UK website Galsys
Click here to go to the Galleon official US website NTP Time Server
---
Links


Time Server - Rackmount time server products
NTP Server - Stand alone NTP Time Servers
Time Servers - Information Page
NTP Time Server - All NTP Server Products
Atomic clock - All Atomic clock Products

NTP server products
Windows NTP Time Server Products
Time server Solutions
Galleon Time Synchronisation Solutions

Contacts:

Atomic clock Galleon
Galleon's Time Synchronisation
Galleon Contact information

Information:

Galleon's NTP Time Servers
Dedicated rackmount NTP time servers
AboutNTP
About NTP for Windows NT/2000/XP
NTP for Windows 2000/NT/XP

atomic clock
gps time server
ntp unix
ntp windows 2003
ntp windows nt
time synchronisation
unix time server

For more information about Galleon Systems and products click here.

Telephone Galleon: 0121 608 7230 | International:+44 870 608 3615
Home | Correct time for computers | CCTV | OEM Modules | Product Finder | FAQ's | Contact | Galsys.co.uk
© Galleon 2003